Structured projects
Manage files, data, code, and protocols in one centralized location and easily build custom organization for your project — no more trawling emails to find files or scrambling to recover lost data.

Controlled access
Manage which parts of a project are public or private, making it easy to collaborate and share with the community or just your team
.
Enhanced workflow
Connect your favorite third-party services like Dropbox or Google Drive, automate version control, preregister your research, share preprints.
Dependable repository
OSF's preservation fund is sufficient for 50+ years of read access hosting at present costs.
With OSF's workflow and storage integrations, you can manage your entire project from one place.
OSF connects the valuable research tools you already use, so you can effectively share the story of your research project and eliminate data silos and information gaps. The OSF allows all of those tools to work together, removing barriers to collaboration and knowledge.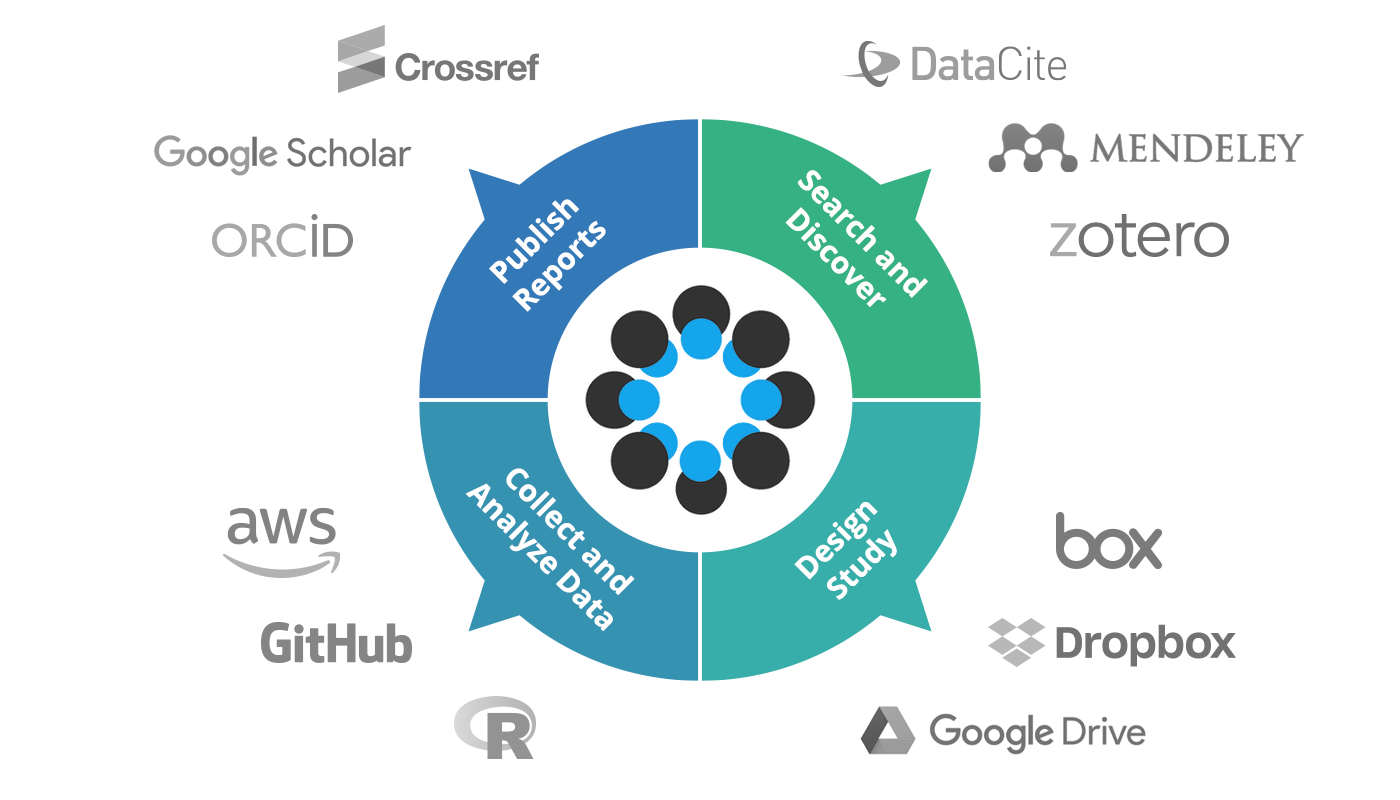 Take a deep dive into OSF and its features
What users are saying
"I've done a fair amount of work with OSF for data management projects for librarian programs in New England, and it's integration capabilities with other tools (like Git or Google Drive) are fantastic."
Zachary, U Mass Dartmouth
"I am just starting to play with OSF and impressed by the existing functionality. One of the really nice features is the live editing - this will make collaborative writing processes quite a bit more efficient, I anticipate... Thanks for pushing this wonderful concept forward!"
Stanley, Biology post-doc
"Dear COS Team... First of all, thank you very much for all the effort. The OSF/COS is a desperately needed solution in the current scientific system."
Susan, UC San Diego
OSF has a rich feature set that enables efficient, organized research projects

Organize your projects. 
The project dashboard helps you keep all of your research and data at your fingertips.

Manage complex projects. 
Control access by collaborators or make work open to the public, link projects together, add preprints, or create preregistrations.

Document your process. 
The project wiki can be used to keep notes and project logs keep track of who took action.

Add components or folders. 
Projects can quickly grow, but OSF's structured approach keeps them clear and organized. Add folders, files, or make new components.

Version control? Got it. 
Analysis, code, and manuscript drafts change over time, and it is important to keep track of all these different versions. OSF makes it easy by automating version control for files with the same name.

Register your work. 
Registrations create time stamped, read-only versions of a project. Use this to preregister a hypothesis and analysis plan, or keep a snapshot of work before peer review. Files in your project can be modified, but the files in the registration can not.

Share your work. 
OSF allows you to share what you want, when you want. Everything on OSF is private by default. Users have fine-grained control over which aspects of the project are made public.

Extend OSF with Add-ons. 
Connect other tools you use to OSF—like Dropbox, Github, or Figshare—so you can follow your current workflow in a centralized environment. 

Project analytics. 
OSF stores project usage information to help you measure the impact of your work. Users have insights about impact beyond citation rates, like how many people are accessing and downloading your research materials.